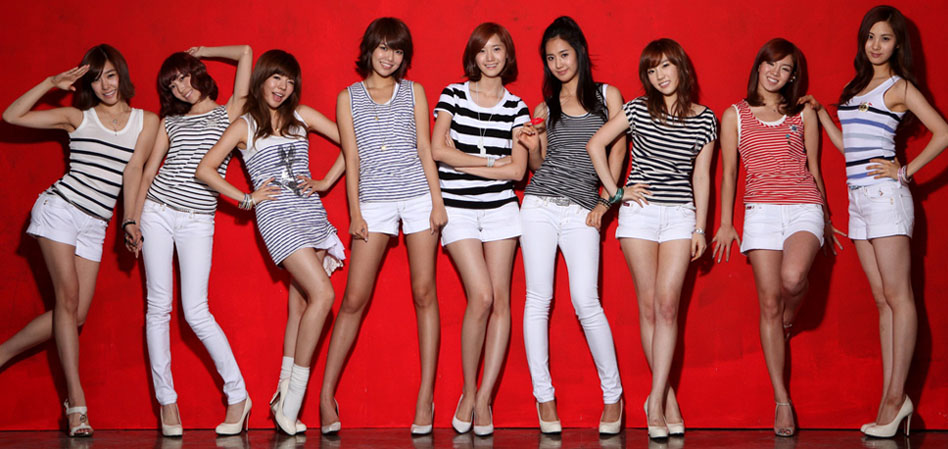 What is Girls' Generation?
Girls' Generation is a South Korean girl group consisting of nine members. They made their debut in 2007 under SM Entertainment. They are currently the most popular Asian girl group, with their influence reaching Japan, China, Southeast Asia as well other countries worldwide.
Why is Girls' Generation also called SNSD?
Girls' Generation is the official name of the group. 소녀시대 is their name in Korean, with the romanization spelled So Nyeo Shi Dae, which is shortened into the acronym SNSD. They are also known by their Chinese and Japanese name, which is 少女時代.
Who are the members of Girls' Generation?
Taeyeon Kim, born March 9th, 1989. She is 157 cm (5'1 1/2") tall. She is the leader of the group and often referred to as the 'kid leader'. She has also worked as a TV and radio host, a solo artist, and worked as a voice actress for the Korean dub of the animated movie Despicable Me.
Jessica Jung, born April 18th, 1989. She is 163 cm (about 5'4") tall. She was born and raised in San Francisco, California, and is fluent in English and Korean. She has the nickname 'Ice Princess' and is considered the messiest member.
Sunny Lee, born May 15, 1989. She is 155 cm (5'1") tall. She was co-DJ of a radio show and was on a popular Korean reality show called "Invincible Youth".
Tiffany Hwang, born August 1, 1989. She is 162 cm (5'3") tall. She Was born in Los Angeles, and raised in Diamond Bar, California. Like Jessica, she is fluent in English and Korean.
Yuri Kwon, born December 5, 1989. She is 167 cm (5'6") tall. She is also best known for her role in the Korean television sitcom Unstoppable Wedding and reality show Invincible Youth.
Sooyoung Choi, born February 10, 1990. She is 170 cm (5'7") tall. She has worked as a actress, spokesmodel, TV host, and radio DJ. She majoring in performing arts at Chung-Ang University. She is also proficient in Japanese.
Hyoyeon Kim, born September 22, 1989. She is 160 cm (5'2") tall. She is considered the best dance of the group, and learned hip-hop in dance school when she was growing up. She is also proficient in Mandarin Chinese, as she studied in Beijing, China.
Yoona Im, born may 30, 1990. She is 166 cm (5'5 1/3") tall. She has acted in several Korean dramas and has modeled for various commercials and magazines. She is studying theatre and music at Dongguk University. She is generally considered to be the most popular member of Girls' Generation.
Seohyun Seo, born June 28, 1991. She is 168 cm (5'6") tall. She has been active in her modeling career, and has appeared in many magazine photoshoots and commercials. She was also a voice actress in the Korean dub of Despicable Me. She is the youngest member of Girl's Generation.
How many albums has Girls' Generation produced?
Two full length albums, three mini albums, two repackaged albums, as well as the soundtracks to several Korean dramas. They have also produced singles from as promotions for Intel and the LG Chocolate phone. Each of their albums have sold over 100,000 copies.
Girls' Generation seems to rely too much on their looks and cuteness and don't seem to have much substance.
This is the general reaction to many people who are unfamiliar with Girls' Generation, or with Korean music groups in general. The truth is, all of the members of Girls' Generation are very hardworking and talented. From an early age they were trained in singing and dancing, as well as acting and modeling. They also take language lessons, and most of the members are proficient in Japanese, Chinese, and English. In addition, they're weekly schedules are always incredibly busy, as they are constantly on tour doing nonstop concerts, variety shows, radio shows, etc. Their international influence also means they are often flying to different countries to promote and perform their music. They have very little downtime or vacation time, and to say that they are hardworking would be a vast understatement!